New Ranger Guide
Jump to navigation
Jump to search

Welcome Message
On behalf of the 2nd Ranger Battalion, I welcome you to the unit! I'm Captain William Reese your Company Commander.

What does the unit expect from you?

Many people are not accustomed to playing in a milsim realism environment. Being a part of a typical gaming community is far different than being a part of a unit such as ours. You cannot do whatever you want, whenever you want. We have rules and regulations to keep our unit civil, professional, and compliant to modern military standards. Here you are not a player, you are a Soldier!

We understand and respect that you have a life outside the unit. Real life always comes first! Many active, reserve, and retired soldiers have sacrificed a great deal of work, time, effort and money for this unit to be what it is today.It is your great responsibility to honor their past commitment, and work to adhere to the example set by your predecessors, and make the unit proud!

What can you achieve in 2nd Ranger Battalion?

You can achieve whatever you want in this unit! Your only limitation is your imagination and motivation. If you just want friends and to be part of a community inside of the Armed Assault, this unit is for you. If you want to lay down effort, get promoted up the chain of command, take on the role of a leader, take lead of a squad and/or a DMOS, this unit is also for you. If you show the unit that this is what you want, you want to achieve something big in this unit, and you lay down a little effort, you will be granted with better positions/roles out of what you do and want. If you want to be that soldier everyone is talking about, be the one that leads a squad in and out battle, train soldiers to be professional and help the unit grow by participating in recruitment efforts. All this is possible, you are the one who decides how your service in this unit will be.

How can I prepare myself for my time in the 2nd Ranger Battalion?

Your first resource is the unit's website. The website's information pages explain several topics to get you up to speed with our day to day operations within the 2nd Ranger Battalion.

Where do I sign up for my Basic Training? Basic Combat Training (BCT) and Ranger Assessment and Selection Program (RASP) are held on Mondays or Tuesdays depending on the cycle at 1930 EST. Check the unit calendar and Discord for information. If you cannot attend a training that you signed up for through the Discord role please let the staff know in the appropriate channel. If you miss a RASP training day you can re-cycle to the next cycle's one the following week.

How can I apply for a Duty MOS (DMOS) position?

After graduation from Basic Combat Training (BCT), you will be promoted to the rank of Private (PV1) and after Ranger Assessment and Selection Program (RASP) to the rank of Private Second Class (PV2). When you reach the rank of Private First Class (PFC), you will be able to apply for a Duty Military Occupational Specialty (DMOS).


Work hard, play hard, collect your success!


I know being the new guy or the "Rookie" might be a challenge for some, but in this unit we are lucky to have the best Command Staff, best leaders and the best soldiers that any unit has to offer. Here we welcome, treat and respect every single person. If you're new, and may not know that much of the military life, tactics, game-play, etc... Everyone in this unit is willing to try and get you on your feet to help you succeed! Don't be afraid, there are no "stupid questions", only stupid answers!

Take note of the following:

Show respect, give respect, treat others like you want them to treat you, be professional, follow the structure of this unit, follow the Chain of Command, procedures and stay out of trouble and be active! If you follow these simply steps, your time here will be well worth it.

If you can do all these steps, you will do just fine!

If there is anything on your mind, anything you want to ask, feel free to contact your recruiter, fireteam leader, and/or squad leader. They are valuable resources. Treat them as such! And at last, let this be your first test.
Introduction
The 2nd Battalion 75th Ranger Regiment is an ArmA Unit founded September 1st, 2018 that set out to provide a realistic and capable experience in military operations on ArmA 3. New Rangers are expected to uphold the standards required of them instilled within the General Orders, Entry Level Training (ELT), and within their respect Military Occupation Specialty (MOS). Rangers are also expected to attend 1930 EST operations each and every Sunday, along with their respective platoon trainings. Rangers are entirely capable of rapid advancement and eagerness, plus competence typically yield greater rewards as options open up within the Company.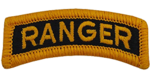 After completing the recruitment process the new Rangers are brought into the training platoon and sent through 2 days Basic Combat Training. BCT covers all aspects of the combat experience one might run into, including operation of radios, weapons, battle drills and tactics, formations, and close quarters combat (CQC) techniques. After, they attend Ranger Assessment and Selection Program (RASP) in order to be tested and inducted into the 2nd Ranger Battalion. After Ranger Assessment and Selection Program a new Rangers is expected to attend the Combat Lifesaver Qualification (CLS) and then attend Air Assault school.
Rangers post-Entry Level Training are billeted into a military occupation specialty of their choosing, subject to availability. They then are typically put into a squad as attend operations and seek further qualifications. After a period of time they may advance pending their enthusiasm and effort put into the unit during their time as a new Ranger.
Entry Level Training
Entry Level Training is the pipeline that brings all personnel into the 2nd Ranger Battalion ecosystem. 11B Infantryman is the Military Occupation Specialty earned after the completion of Entry Level Training.
| | | |
| --- | --- | --- |
| Training | Description | Course Length |
| Basic Combat Training Day 1 | Basic Combat Training Day 1 encompasses most of the practical skills required for 2nd Ranger Battalion operations. Policies, General Orders and the Calendar. Game key-binds, unit ranking structure, setting up ArmA kits, and uniform policy. Squad structure and the signal plan, plus roles and chain of command. Basic Combat Training also covers Land Navigation. One of the most important parts of Basic Combat Training is communication and working the radios with Task Force Arrowhead Radio (TFAR). After going over communication, radio reports, and additional frequencies Recruits are then taught Combat Life Saver techniques, Anti-Tank procedures and weapons usage. | 2 hours |
| Basic Combat Training Day 2 | Basic Combat Training Day 2 regards mainly the theoretical and tactical portion of the instruction. Movement Formations and Bounding, Battle Drills such as 1A (React to Contact) and 1B (React to Indirect Fire). Day 2 also covers Linear Danger Areas (LDAs) and Open Danger Areas (ODAs) along with types of ambushes. Finally Basic Combat Training Day 2 covers vehicle operations, including operation of the Long Range Radio (LR) and vehicle convoy formations, along with that Close Quarters Combat (CQC) is touched upon and Recruits are ran through the kill house. | 1 hour 30 mins |
| Ranger Assessment and Selection Program | Ranger Assessment and Selection Program (RASP) is the ultimate test of the knowledge given in Basic Combat Training. It is an in-game examination and trainees are expected to properly display their competence and knowledge within ArmA 3 and as a member of the 2nd Ranger Battalion. | 1 hour |
Basic Combat Training (BCT) is the primary entry training of the 2nd Ranger Battalion and takes place over two days which reinforce a myriad of skills, tactics, and techniques to further enhance a player during the Operations and further trainings performed in 2nd Ranger Battalion. Basic Combat Training primarily concerns behavior within the unit and the baseline skills needed to understand and perform within the operations. Basic Combat Training does not provide necessary qualifications to be a fully-fledged 2nd Ranger Battalion Ranger and further training will be required. Basic Combat Training's myriad of skills and information provided and taught include but are not limited to: Basic conduct including the general orders and regulations that accompany, basic radio protocol and use of Task Force Arrowhead Radio (TFAR), the basic control scheme of ArmA 3 plus the additional mods, formations and tactics including battle-drills, weapon and Close Quarters Combat skills, and basic Combat Life Saver.
After completing BCT a now Private (PV1) is expected to retain the information learned in Basic Combat Training for use in the 2nd Ranger Battalion. After a trainee completes these two classes, which represent the baseline of understanding in their respective fields, they are then put through Ranger Assessment and Selection Program (RASP), an examination that will test a trainee's abilities and their retention of knowledge offered in the previous classes. Should a trainee receive a sufficient score they are to be accepted into the 2nd Ranger Battalion. Should a trainee be billeted into a non-11 series MOS they are to be sent further down into the training pipeline for their respective MOS.
Military Occupation Specialty
After a new Ranger completes Entry Level Training (ELT) they are taken to their respective Military Occupation Specialty (MOS) pipelines to ensure they properly retain and are trained with adequate knowledge to perform the duties within operations. New Rangers seeking an 11-series position do not complete additional training to further their base of knowledge and are inducted into the unit, wherever that may be. The Entry Military Occupation Specialties broken down are as follows, 11B Infantryman, 13F Fire Support Specialist (JFOs), 68W Medical Specialist, and 153A Rotary Wing Aviator. Other qualifying MOS's exist but are functionally reserved for 2nd Ranger Battalion Rangers after some time in service.
11B Infantrymen are the ubiquitous armed combatant of the 2nd Ranger Battalion. Infantry are expected to be proficient in combat arms and small-unit tactics. Basic Combat Training and the Ranger Assessment and Selection Program are both aimed to ensure that Infantrymen are capable of performing under combat conditions. The Infantrymen are versatile, capable of utilizing a multitude of different weapon platforms including the M4A1, Mk11 Mod 0, M249 SAW, Mk18, HK416s, and M136s. Infantry within Weapon Squads are also capable of using the M240B, FGM-148 Javelin, FIM-92F Stinger, and M3 MAAWS. Infantry are expected to be capable of following orders from their leadership whilst also remaining alert to the changing situations on the ground.
13F Fire Support Specialists are the primary means by which fire support is called. Joint Fire Observers in the 2nd Ranger Battalion are also Joint Tactical Air Controller (JTAC) qualified and act as air controllers, tasking 160th SOAR flights with targets and ensuring proper Close Air Support (CAS) is directed and safe from friendly forces. Joint Fire Observers are expected to be well-versed in radio communication and advanced land navigation, ensuring their marks and statements are accurate. Joint Fire Observers are expected to be competent communicators, and diligent taskmasters to ensure that the flow of air traffic and tasking is secure.
68W Medical Specialists are the medical personnel accompanying the 2nd Ranger Battalion into combat. Medical Specialists are expected to be competent in the use of the ACE Advanced Medical system and are also responsible for communicating and organizing the injured as they are taken down within combat. Medical Specialists utilize Tactical Combat Casualty Care to ensure that those that are incapacitated or injured can be safely treated that does not bring unnecessary risk to the Medical Specialist, the wounded soldier, and also those around them. The mitigating of risks and reduction of fatal casualties is the chief concern for Medical Specialists.
153A Rotary Wing Aviators are the pilots that operate the helicopters in the 160th Special Operations Aviation Regiment (Airborne). The 160th SOAR (A) operate in tandem with the 2nd Ranger Battalion in combat operations and are mainly responsible for transportation, resupply, reconnaissance, and Close Air Support (CAS). Rotary Wing Aviators are held to a high standard and are expected to be competent in the actual operation of the aircraft. Along with their piloting skills they are expected to be proficient at land navigation and map reading, communication and radio traffic, and additionally operating with high situational awareness. Rotary Wing Aviators are held to a higher standard.
Operations
Operation Timetable Overview
| Time | Event | Description | For |
| --- | --- | --- | --- |
| 1745 EST | Pathfinders Briefing | Pathfinders are informed of the mission and plan out their HLZs and LP/OPs accordingly. | Pathfinder Platoon |
| 1800 EST | Pathfinders Step Off | Post-equipment check the Pathfinders enter their methods of insertion and are taken to the AO. | Pathfinder Platoon |
| 1900 EST | Pathfinders Returned to Base | The Pathfinder team exfiltrates the area and debriefs. | Pathfinder Platoon |
| 1915 EST | Company/Platoon HQ Briefing | Company and Platoon HQs receive a brief from S-2 and conduct planning, using intelligence gathered from the Pathfinder team. | Headquarters |
| 1930 EST | S-2 Intelligence Briefing | The Company is briefed by S-2 and informed of the mission's context or changes, and break down the CONOP. | All Hands |
| 1935 EST | Platoon/Company Briefing | Company and Platoon HQ brief the soldiers of their mission. | All Hands |
| 1940 EST | Staging & Rehearsals | The Platoons break into their units for rehearsals and preparation, and form up for insertion to the Area of Operations (AO). | All Hands |
| 2000 EST | Step Off | The Company departs for the AO. | All Hands |
| 2200 EST* | Returned to Base | The Company returns from the AO. | All Hands |
| 2205 EST | Announcements | Company HQ performs a debrief and informs the Company of any pertinent information. | All Hands |
| 2215 EST | Dismissed | Company is dismissed from in-game activities. | All Hands |
Note: If an Operation runs over the two hour time allotment, announcements and dismissal will be pushed back accordingly

Operations are the main event and greatest draw for participation within the 2nd Ranger Battalion. Operations start at 1930 Eastern Standard Time (EST) on Sundays. Leadership and 160th SOAR (A) are expected to be on the server by 1900 Eastern Standard Time. During the operation all Rangers are expected to perform with the utmost seriousness and attention to the situation as it rapidly unfolds and develops. Rangers need to be prepared for changes in the operation conditions, objectives, and even organization of their squad. The 2nd Ranger Battalion is proud to present the Operation as the peak of performance within the unit's weekly schedule and all participants are expected to give their maximum effort. The Operation is the collection of all in-game assets including Alpha Company Rangers, Hotel Company Aviators, and the S-2 Intelligence Staff.
Reserves
Rangers who can not maintain the time commitment to the 2nd Ranger Battalion, namely the Platoon Trainings and Sunday Operations, will likely be suggested to go into the reserves and enter reservist status. A reservist is not billeted within the Company in any particular squad but is welcome to attend any event as if they were active duty. The main point of Reserves is to allow those with inconsistent time schedules to approach and enter Operations and training at their leisure without having an effect on whatever billet they might have been assigned to within active duty. Rangers seeking Reserves should contact their leadership directly and be appropriately slotted as a Reservist. Reserves is not a permanent assignment and after some time may be placed into reserves. This is circumvented by donating a minimum of $3 to the unit for permanent access to reserves without removal. Reservists are under the direction of the S-1 Retention Chief and are under his supervision as long as they remain within Reserves.